Research
---
Pedestrian Behavior (BDI)
Belief-Desire-Intention (BDI) framework for human decision behavior modeling mimics realistic human behaviors, attributes of the extended BDI framework are reverse-engineered from human-in-the-loop experiments conducted in the CAVE virtual reality environment. They have applied the framework to various scenarios including 1) error detection and resolution by people in a manufacturing facility, 2) evacuation behaviors under a terrorist bomb attack, 3) a virtual stock market, and 4) evacuation behaviors under fire in a factory.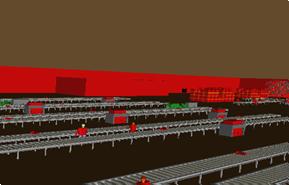 Aging Travelers/Drivers
This research area evaluates the older people's population trends and analyze the demographic difference, identifies basic travel patterns and trends among the elderly. considers differences in the travel patterns of those with and without driver's license, focuses on women's travel and the still growing gender disparities as people age, etc.