Research
---
Adaptive Ramp Metering System - MILOS
Researchers at the University of Arizona's ATLAS Center developed an Adaptive Ramp Metering System referred to as MILOS (Multi-Objective, Integrated, Large-Scale, Optimized System). "Phase I" of this project implemented the system for a segment of the I-10 corridor in Phoenix, as part of the Arizona Department of Transportation's (ADOT) Freeway Management System (FMS). "Phase I" implemented software/hardware components so that detector data from the freeway are provided to MILOS and, in turn, MILOS provides ramp-metering rates.
A "Phase II" effort is planned that will identify performance capabilities of MILOS and the communication and detection issues that need to be addressed for wide-scale deployment.
This project was done along with the U.S. Department of Transportation, Federal Highway Administration.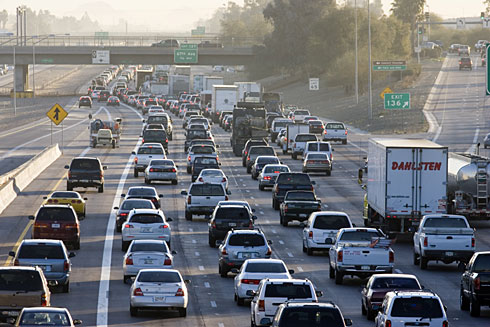 ADOT Emergency-IntelliDriveSM (E-IntelliDriveSM)
The Arizona E- IntelliDrive research program is an investigation of the application of IntelliDrive technologies to improve the safety and efficiency of incident response and incident management activities. This project has concentrated on the development of IntelliDrive applications to provide intelligent emergency vehicle priority at traffic signals and ramp meters and to provide incident location information dissemination using vehicle-to-vehicle and 511 communications.
Partners in the project include the Arizona Department of Transportation, Maricopa County Department of Transportation, Kimley-Horn & Associates, Arizona State University, Oz Engineering, The AzTech Partnership, Econolite, and Savari Networks.